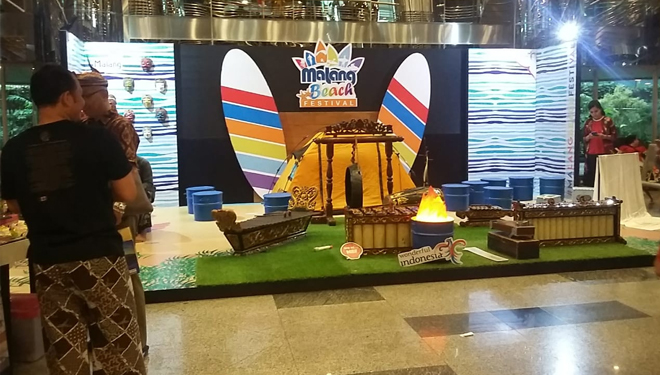 TIMESMALANG, JAKARTA – Malang Beach Festival 2019 was launched by the Ministry of Tourism (Menpar RI), Dr. Ir. Arief Yahya, M.Sc, on Thursday (21/3/2019) evening.
The Vice Regent of Malang, Drs HM Sanusi, MM, along with hundreds of participants from various tourism communities, regional guests, and both internal and external stakeholders, attended this event.
The Head of Public Relation and Protocol, as well as the Regional Secretariat of Malang, Tien Farihah, said that Malang Beach Festival or also known as MBF, was launched to introduce the potential tourism destinations in Malang.
Besides, MBF is a big event. It is the icon of Malang city. That's why, the Government of Malang was proud to launch MBF in the capital city of Indonesia. This also makes the information spread faster.
"There will be more visitors coming to this event. There will be five beaches to be the venues of this event. The premier event of MBF will be held in Sendangbiru Beach on 27 September 2019. There will be Petik Laut ceremony (the traditional ceremony to express gratefulness towards God). On the next day, 29 September 2018, there will be a Culture Carnaval in Ungapan Beach. Just like in the last year, this carnival will be held to celebrate the anniversary of Malang," said Tien in Jakarta on Thursday (21/3/2019) afternoon.
The next events of MBF will be held on 12 October 2019. The events are Malang Beach Culinary and Malang Beach Run. Both of the events will be held in Nganteb Beach.
Moreover, there will be an event of Malang Night Surfing on 2 November 2019.
"Night surfing spot is rare in Indonesia. There is one in Bali and the other one is in East Java, in Wediawu Beach. The series of events will be closed by paragliding event in Modangan Beach, Donomulyo sub-district, Malang, on 23 – 25 November 2019. Generally, the events of Malang Beach Festival 2019 are more various this year. We combine the sport tourism and cultural preservation," said Tien. (*)
Baca Berita Peristiwa dan Politik terbaru di Indonesia dan luar negeri lainnya hanya di TIMES Indonesia.