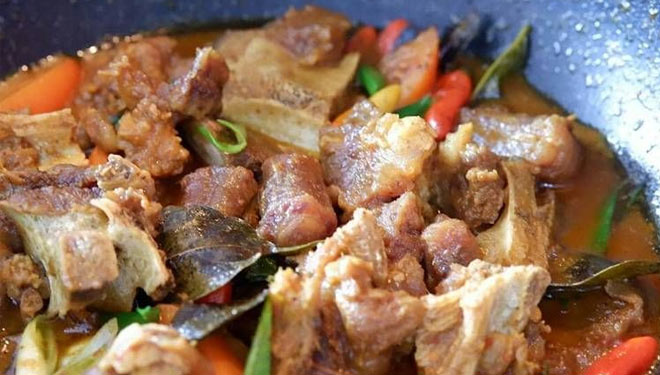 TIMESMALANG, JAKARTA – Oxtails are the tail of the cow. Usually, they make wonderful soups, which become one of the most favorite dishes in Indonesia. In recent years, oxtail's repertoire has expanded into many kinds of dishes.
Not only oxtail soups, but here are several other scrumptious oxtail recipes that you can make at home.
1. Oxtail Stew
Oxtails make a hearty stew with sweet-savory and oily taste. The recipe is just the same as the beef stew. The difference is that we use oxtail instead of beef to make this kind of stew.
2. Oxtails with Gravy
This oxtail recipe has a fresh, savory, and sour-sweet taste. It is easy to make this recipe as we can find its main ingredients around us. The cooking method is also simple.
3. Javanese Oxtail Black Soup
Javanese beef black soup is also known as 'rawon' in Indonesia. However, this recipe uses oxtail instead of beef.
4. Oxtail Tengkleng
Tengkleng is a traditional food from Solo that is almost the same as curry. It usually uses mutton as the main ingredient. However, to make oxtail tengkleng, you use oxtail instead of mutton as the main ingredient. To make it tender, you should cook the oxtails in a pressure cooker first.
5. Braised Oxtail with Soy Sauce
This oxtail recipe is suitable for those who like sweet taste. It also has a savory taste. It is best to eat this recipe with warm rice.
6. Crispy Fried Oxtails
The oxtail is deep-fried until it has crispy texture. However, the oxtail should be cooked first and coated with breadcrumbs.
7. Steamed Oxtail Wrapped in Banana Leaf (Pepes)
This recipe is also known as 'pepes' in Indonesia. Pepes is a cooking meat by using banana wrappings. The oxtails are wrapped in a banana wrapping and steamed. Usually, people use tamarind vegetable soup as its side dish. (*)
Baca Berita Peristiwa dan Politik terbaru di Indonesia dan luar negeri lainnya hanya di TIMES Indonesia.