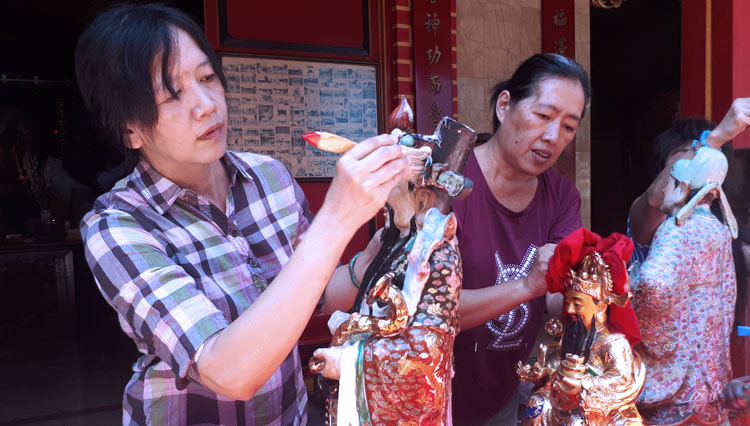 TIMESMALANG, MALANG – Lots of local Chinese people of Malang gathered at En Ang Kiong Temple on Sunday morning (19/1/2020). They were planning to hold a massive cleaning of the temple area along with the God and Goddess statues.
Located at Jalan Martadinata, Kedungkandang, Malang, East Java, the En Ang Kiong temple is one of the biggest temple in Malang.
This place has 13 altars surrounding the temple, two at the front side, four at the right wing for Confucian, another four at the left wing for the Buddhist, and 3 at the back for the Taoist.
The Chinese community started to clean the temple at 07.00 in the morning. They took all the statue out to be cleaned and washed it with water.
They brush the statue softly with a small paint brush which has been soaked in a detergent and water solution. And then they rinse it with another clean water.
They then dried the statues under the sun. And right after its dried, the statue is ready to be brought back into the temple.
"We will do another praying ceremony after this to welcome the Gods and Goddesses return to the statue," Bonsu Anton Triyono, the PR of En Ang Kiong Temple Malang said. (*)
Baca Berita Peristiwa dan Politik terbaru di Indonesia dan luar negeri lainnya hanya di TIMES Indonesia.